Would you like to turn TV Boss into a $18,507 per month income stream? Here's how, with…
TV Boss White Label License
Rebrand and sell TV Boss as your own… pocket 100% of the profits… and easily make $18,507 per month… without any of the usual work!
Here's what you need to know…
… right now, there are THOUSANDS of marketers and business owners who are pulling their hair out…
… losing sleep and even destroying their relationships trying to keep their business alive…
… and find a way to keep traffic flowing…
… and getting customers through the doors.
Act NOW! This Is A Time Limited Offer.
So, when they see TV Boss for the first time, they're going to want a piece of the action…
Because like you, they're gonna see the massive opportunity that TV Boss presents…
… and they'll happily pay $200, $500 or even $1000 to get a piece of it.
As a TV Boss White Label license holder, you can resell the TV Boss software to clients, complete with your own branding over it, for any price you want… and pocket 100% of the profits on every sale!
This is huge… with tens of thousands of people desperate for a solution like TV Boss… you could seriously clean up by selling this breakthrough technology to them for huge paydays…
Daily sales
(at $199)
Weekly Income
Monthly Income
Annual Income
1
$1,393
$6,169
$70,844
3
$4,179
$18,507
$212,532
5
$6,965
$30,845
$354,220
"But wait… can I really sell this for $199 a pop?"
Um, yeah you can.
Do you realize how desperate people are for traffic?
How many YouTubers, business owners, marketers… are all out there, busting their butts trying to get views and traffic right now?
But are FRUSTRATED because they can barely scrape 100 views a day?
These guys are paying hundreds of dollars per month to run Video ads on YouTube and Facebook… hoping to finally cut through the noise and get the attention they deserve…
… so when you come along with an awesome solution that gets their videos in front of millions of hungry viewers each day…
… without burning holes in their wallets on ads each day…
… and without any of the usual B.S rules to promote their business on social media and other websites…
… they're gonna JUMP at the chance…
… and SNATCH your arm off to get a piece of the action!
It goes something like this…
"$199 to get overnight exposure…
… and beam my videos across millions of TVs, devices and homes in America, Canada, UK, Australia, New Zealand…?
… HELL YEAH!"
Can you say… EASY SALE?
Even at $499…
… you'll be selling a total no—brainer solution to hundreds of people every month…
… and well on your way to making at least $100,000 per year.
You didn't have to spend tens of thousands on product development!
You didn't need a software engineering degree.
You didn't need to hire and fire staff.
You didn't need to spend months doing market research.
You didn't need to spend thousands of dollars and almost a year developing software.
You just tapped the order button on this page, before the timer runs out…
… and you walked away with a "ready made" product that you can easily sell for $199 a pop, day after day…
… all the way to six figures per year… and beyond!
Become a TV Boss White Label License Holder today and you'll get the full rights to resell TV Boss as your own, and pocket 100% of the profits!
You'll also get the TV Boss Rebrander software, which allows you to create a copy of TV Boss software with your own name and branding on it instead… your buyers will NEVER know we built the software for you… and will think you're a freakin' genius too!
It takes just 5 minutes to completely rebrand the TV Boss software with the rebranding tool. No coding required. The software does everything for you.
Here's what you can do with your own TV Boss White Label License:
Sell TV Boss to anyone, anywhere, under your own brand name. Your buyers will thing you created it yourself! You pocket 100% of every sale, selling this year's hottest new tool without any real competition.
Install TV Boss on clients' websites with your own branding. TV Boss can run on your client's websites, so they can manage the tool themselves, but with your branding on it instead of ours. This helps you grow your reputation, brand and create a professional appearance for clients.
But wait, how do I get buyers?
Here's the BEAUTY of this…
When you're selling this for at least $199 a pop, you can easily afford to OUTSOURCE all the traffic and marketing… to bring you a daily stream of buyers, hands free!
Tbink about it…
With just 1 sale per day, you could be making $6,169 per month…
… minus your rent or mortgage, bills and other living expenses…
… that leaves you with BAGS OF CASH to spend on:
Facebook ads (or ad agencies)
SEO experts (slower, but worth it)
Social media agencies
Sponsored posts
Sponsored shout outs on social media
YouTube ads (or YouTube ad agencies)
… you can use your brand new Roku channel to promote TV Boss too!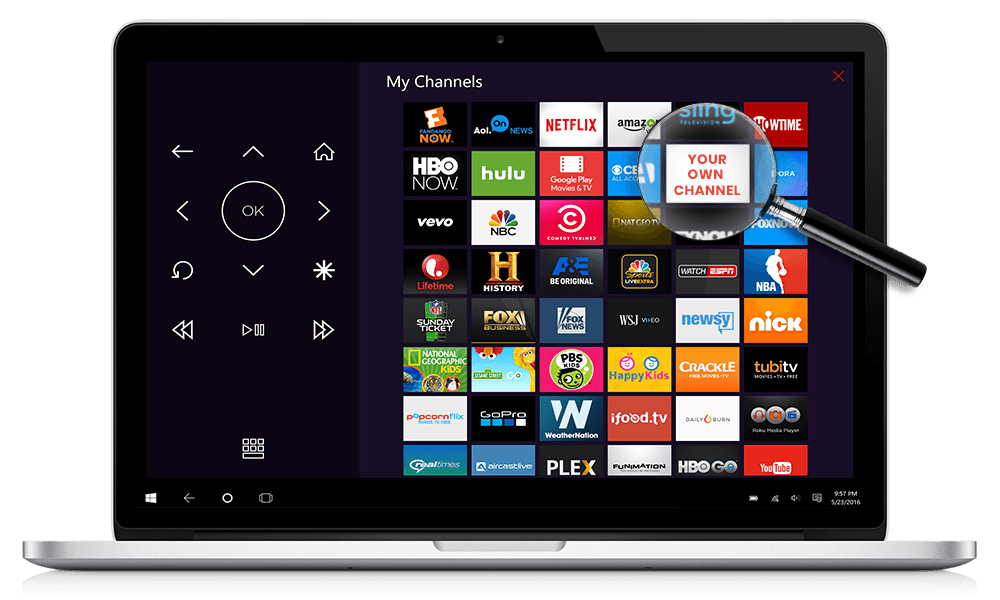 Why not use your new Roku channel to reach millions of people who are looking for marketing help…
… and advertise your rebranded version of TV Boss?!
Isn't that the whole reason you bought TV Boss… to be able to promote whatever you want, fast and free?
Now you can…
… and it's like running a 24/7 informercial, promoting your version of TV Boss to a global audience of business owners and marketers who will pay big bucks for it.
And guess what…
… they're seeing your TV commercial on ROKU…
… which means it's built—in proof that it works!
It really doesn't get much sweeter than this.
But enough chat.
This is selling out fast, and licenses are limited.
My advice is…
This offer is strictly limited…
Once you leave this page, this six—figure income opportunity goes away forever. We will NOT be selling this White Label license anywhere else, at any price. Click the order button now to add this to your TV Boss order and add another HUGE income stream to add to your growing business!
<Don't Forget! You're covered By Our 30 Day Money Back Guarantee>
The materials provided on tvboss.net are not to be interpreted as a "get rich quick" scheme in any way. Your earning potential is entirely dependent upon you. The level of success you reach employing these techniques and ideas is entirely dependent upon you; your skills, your financial resources, your advertising and marketing knowledge and your time that you devote to becoming successful. Because of these reasons, we cannot guarantee your earnings level nor do we in any way whether directly or indirectly do so.
Legal & Policies | Privacy Policy | Terms Of Use | Agreement | Terms Of Service
Copyright (c) 2018. TV Boss. All Rights Reserved